National Fisheries Developments' New Solomon Islands Star Loader Services Connects Tuna Fleets to Tuna Markets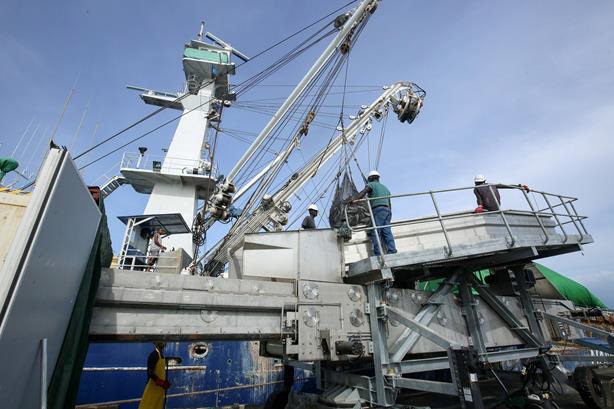 Maersk Line Star Loader in operation at Noro, Solomon Islands.
FOR RELEASE MARCH 8, 2019
Media Contact
Natasha perkins
Office +1 (206) 838-3457
Mobile +1 (623) 238-0969
BELLEVUE, Wash. (MARCH 8, 2019) –National Fisheries Developments (NFD), a Tri Marine Group company, now provides unloading and reefer container shipping services at its Noro, Solomon Islands base using the Star Loader system.
Purse seiners can now unload tuna catches directly into Maersk reefer containers for delivery to any port within Maersk's worldwide service network.
NFD's Star Loader service is priced very competitively using an all-in lump sum fee per ton which includes sea freight, bunker surcharges, dock, port and tonnage charges, a s well as container loading and handling costs.
"Purse seine vessels will benefit from Noro's faster turnaround time and lower freight costs," said Russell Dunham, director of business development, NFD. "Each unloader at the Noro base is capable of handling 25 to 30 tons of tuna per hour, much faster than carrier transshipment."
Noro has grown steadily due in large part to the government's support of the port as a tuna hub. It is the only port in the Pacific that hosts a major tuna cannery, a base for purse seiner and pole and line fleets, and unloading and shipping services for longliners and their Ultra Low Temperature catches.
"Noro is a great location for tuna unloading," said Thue Barfod, global head of the Fish and Seafood Cargo Segment, Maersk. "We are able to provide the tuna boats fishing in and around Solomon Islands with quick and cost-effective access to global markets."
NFD is operating the Star Loader system in a joint venture with Solomon Islands Ports Authority (SIPA) and Maersk Line.
ABOUT TRI MARINE
Tri Marine is a recognized leader in fishing, processing and distributing high -quality tuna products to the world's markets. The company focuses on quality, sustainability, innovation and customer satisfaction. As a socially responsible operator Tri Marine has chosen to invest in the communities closest to fishery resources. National Fisheries Developments and SolTuna are part of the Tri Marine Global Group of Companies. For more information, visit www.trimarinegroup.com.
ABOUT NATIONAL FISHERIES DEVELOPMENTS LIMITED (NFD)
Established over 30 years ago, NFD is the Solomon Islands' premier fishing company, operating a fleet of purse seine and pole and line vessels at the port of Noro in the Western Province. The company's management, staff and crew are Solomon Islanders. NFD is the supplier of tuna raw material to SolTuna.
ABOUT SOLTUNA
SolTuna is the Solomon Islands only large -scale tuna processor. Based in Noro, Western Province, the company produces cooked frozen tuna loins and fishmeal for export markets, and canned tuna for local, regional and international markets. Its iconic Solomon Blue and Chilli Tuna brands have been available since the 1980s. The company employs about 2,000 Solomon Islanders.
ABOUT A.P MOLLER – MAERSK
A.P. Moller – Maersk is an integrated container logistics company working to connect and simplify its customers' supply chains. As the global leader in shipping services, the company operates in 130 countries and employs roughly 70,000 people. At A.P. Moller – Maersk, we have a distinctive set of core values which drive the way we do business. These five corporate values were ingrained into our operations by our founders, the Moller family, and have remained guiding principles, governing the development of A.P. Moller – Maersk for over a century.