Tri Marine, Maersk Line and Solomon Islands Ports Authority Announce New Tuna Transhipping Operations at Noro, Solomon Islands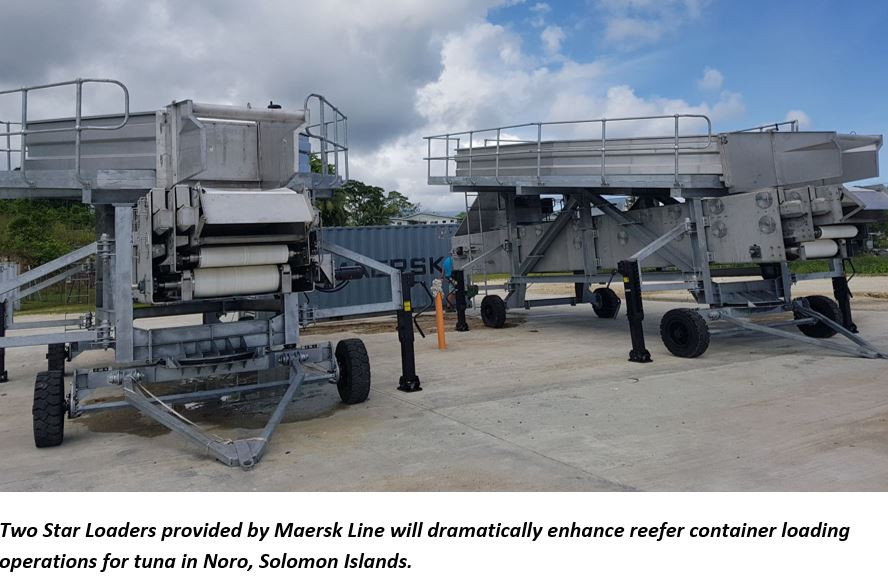 FOR RELEASE SEPTEMBER 10, 2018
Media Contact
Natasha perkins
Office +1 (206) 838-3457
Mobile +1 (623) 238-0969
BELLEVUE, Wash. (September 10, 2018) – Tri Marine Group, Maersk Line and Solomon Islands Ports Authority (SIPA) announced today the addition of two Star Loaders at SIPA's wharf in Noro, Solomon Islands. The efficiency gains from the new equipment, supplied by Maersk Line, is expected to elevate Noro to become the preferred port for purse seiner transhipment operations in the region.
The equipment consists of telescopic conveyor systems enabling purse seiners to load tuna directly into pre-cooled reefer containers. This will reduce unloading times and preserve temperatures and quality at a lower cost than traditional transhipment operations.
"Tuna is one of Solomon Island's most important resources," said Thue Barfod, Global Head of the Fish and Seafood Cargo Segment at Maersk Line. "This Star Loader system provides a new opportunity for the people of Solomon Islands to benefit from their tuna resources."
Joe Hamby, Chief Operating Officer of Tri Marine Group, celebrated the upgrades. "The Star Loaders from Maersk Line make Noro transhipment operations best-in-class among the ports in the region. The fact is that purse seine owners will now be able to ship their catch to the most important markets, like Bangkok, at lower cost than by traditional means, such as reefer carriers."
Shipping by containers instead of by carriers permits optimization of the marketing of the catch. Certain species or sizes can be shipped in container size lots to markets that pay a premium for part of the catch as opposed to transshipment by carriers where all of the catch typically must go to one destination market.
"SIPA is committed to provide better infrastructure, storage and handling facilities to enable smooth transhipment of tuna at Noro while envisaging transformation of the port to the most efficient tuna handling port in the region," said Eranda Kotelawala, Chief Executive Officer of Solomon Islands Ports Authority. "We have the right partners with Maersk and Tri Marine to start this project and to help Solomon Islands and other neighboring countries benefit from tuna exports to the rest of the world."
For Tri Marine and Maersk Line, the new equipment is a further demonstration of both companies' commitment to the island-based tuna fishing industry. It also reflects a strategic investment in Noro as a key logistics hub in the Western Pacific.
In the Solomon Islands, Tri Marine's twelve vessel fleet of fishing boats operated by National Fisheries Developments and the processing operations at SolTuna employ about 2,400 Solomon Islanders. Together, the integrated operations of NFD and SolTuna exemplify what is truly a vertically integrated, locally managed Pacific island tuna operation.
ABOUT TRI MARINE
Tri Marine is a recognized leader in fishing, processing and distributing high-quality tuna products to the world's markets. The company focuses on quality, sustainability, innovation and customer satisfaction. As a socially responsible operator, Tri Marine has chosen to invest in the communities closest to fishery resources. National Fisheries Developments and SolTuna are part of the Tri Marine Global Group of Companies.  For more information, visit www.trimarinegroup.com.
ABOUT NATIONAL FISHERIES DEVELOPMENTS LIMITED (NFD)
Established over 30 years ago, NFD is the Solomon Islands premier fishing company, operating a fleet of purse seine and pole and line vessels based in the port of Noro in the Western Province. The company's management, staff and crew are Solomon Islanders.
ABOUT SOLTUNA
SolTuna is the Solomon Islands only large-scale tuna processor.  Based in Noro, Western Province, the company produces cooked frozen tuna loins and fishmeal for export markets, and canned tuna for local, regional and international markets. Its iconic Solomon Blue and Chilli Tuna brands have been available since the 1980's.  The company employs about 2,000 Solomon Islanders.