Tri Marine Adds New Pole and Line Solomon Hunter to National Fisheries Developments Fleet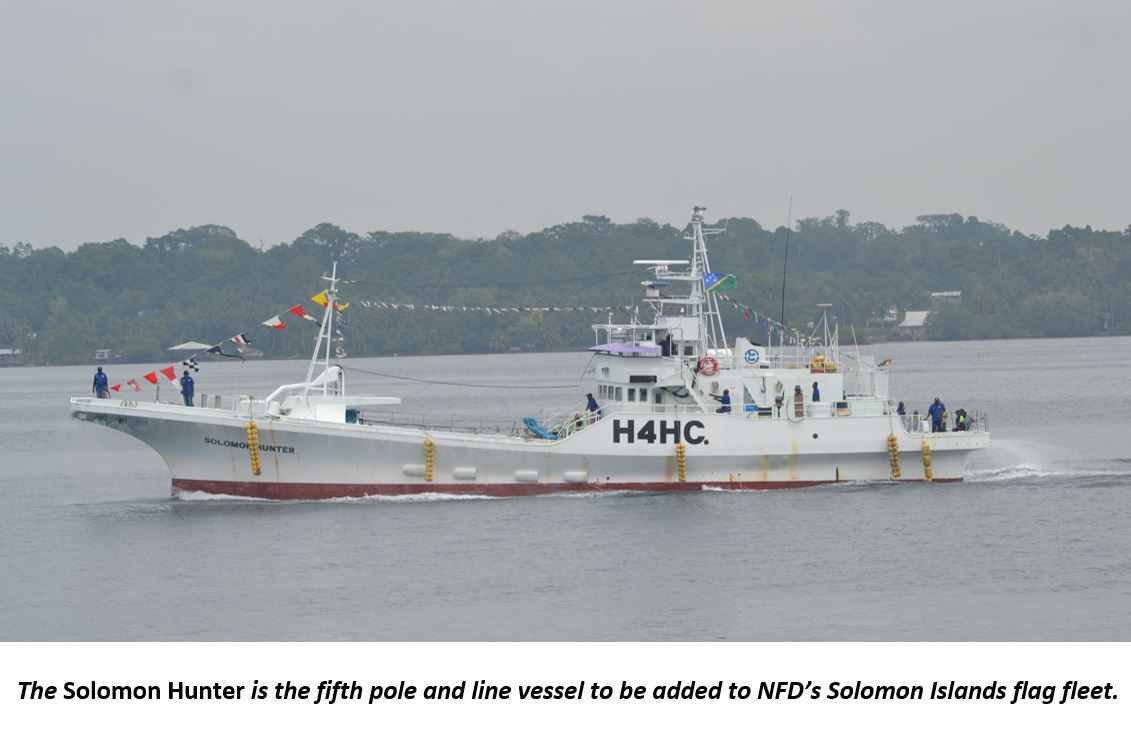 FOR RELEASE SEPTEMBER 6, 2018
MEDIA CONTACT
NATASHA PERKINS
NATASHA.PERKINS@NYHUS.COM
Office +1 (206) 838-3457
Mobile +1 (623) 238-0969
BELLEVUE, Wash. (September 6, 2018) – National Fisheries Developments (NFD) announced today that the company has added a fifth pole and line vessel to its Solomon Islands flag fleet. Upon arrival from Japan, where the boat was purchased, the Solomon Hunter was inspected by Solomon Islands maritime authorities for permanent registry under Solomon Island flag.
Solomon Hunter will join NFD's fleet of seven purse seiners and four other pole and line fishing vessels. The fleet is based at Noro, where SolTuna, the Solomon Islands' only large-scale tuna processor, is located.
"We're thrilled to add Solomon Hunter to our growing fleet of vessels," said Frank Wickham, Managing Director of NFD. "As an organization, we feel it is important that a larger proportion of the regional catch is taken by local operators and processed locally. We need to continue to grow in support of SolTuna."
NFD is a wholly owned subsidiary of Tri Marine.
The Solomon Islands catch from NFD's purse seine and pole and line fleets are certified by the Marine Stewardship Council.
Tri Marine and NFD are continuing to grow their pole and line fleet in the Solomon Islands, demonstrating their commitment to fulfilling demand for pole and line caught tuna for customers.
"At Tri Marine, we are committed to sustainable fisheries and implementing industry-leading practices to support our communities, protect our fishing heritage and to provide the population with healthy proteins," said Joe Hamby, Chief Operating Officer of Tri Marine Group. "We are proud to be one of the Solomon Islands largest private sector employers with more than 2,400 islanders working for NFD and SolTuna. By expanding our existing fleet, we're taking important steps to support the local economy, to expand our workforce with local talent and to grow the Solomon Island tuna industry."
Solomon Hunter vessel details are as follow:
Flag: Solomon Islands
Gear Type: Pole and Line
Capacity: 107 GT
Construction: FRP (Fiberglass Reinforced Plywood)
Size: 37 meters
Speed: 14 knots
Accommodation: 30 persons
Built Year: 1983
Propulsion: Main Engine Nigata 6MG 25BX
ABOUT TRI MARINE
Tri Marine is a recognized leader in fishing, processing and distributing high-quality tuna products to the world's markets. The company focuses on quality, sustainability, innovation and customer satisfaction. As a socially responsible operator, Tri Marine has chosen to invest in the communities closest to fishery resources. National Fisheries Developments and SolTuna are part of the Tri Marine Global Group of Companies. For more information, visit www.trimarinegroup.com.
ABOUT NATIONAL FISHERIES DEVELOPMENTS LIMITED (NFD)
Established over 30 years ago, NFD is the Solomon Islands premier fishing company, operating a fleet of purse seine and pole and line vessels from the port of Noro in the Western Province. The company's management, staff and crew are Solomon Islanders.
ABOUT SOLTUNA
SolTuna is the Solomon Islands only large-scale tuna processor. Based in Noro, Western Province, the company produces cooked frozen tuna loins and fishmeal for export markets, and canned tuna for local, regional and international markets. Its iconic Solomon Blue and Chilli Tuna brands have been available since the 1980's. The company employs about 2,000 Solomon Islanders.