Tri Marine Breaks New Ground with Phase Two of New Electronic Monitoring initiative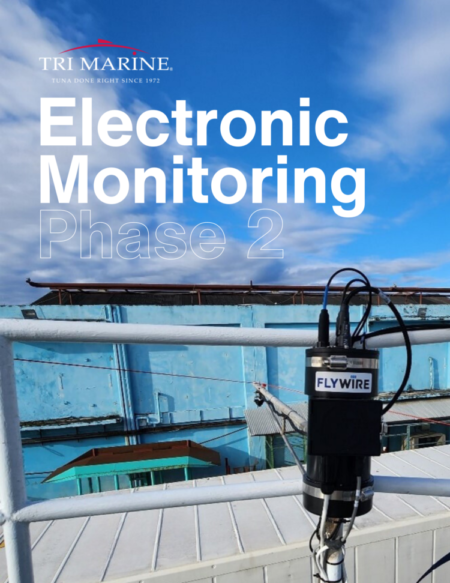 Tri Marine breaking new ground with phase two of new Electronic Monitoring initiative
PORT OF SPAIN, TT – August 2, 2023 – Tri Marine, in partnership with FlyWire, successfully installed unique, new electronic monitoring (EM) capabilities onboard distant-water tuna longline vessels – the second phase of a planned multi-year collaboration. The work was conducted by a team of colleagues from the USA, Taiwan, and Trinidad. Special thanks are owed to the vessel owners, staff and crews, as well as port and customs staff for their meaningful support and contributions.
Tri Marine has been a leader in EM since facilitating the first EM pilot project on distant water tuna longliners in the Western and Central Pacific in 2014, in partnership with the Secretariate of the Pacific Community (SPC), Solomon Islands Ministry of Fisheries and Marine Resources (MFMR), The Nature Conservancy (TNC), and the vessel owner. Ever since, Tri Marine continues to advance innovative solutions in an ongoing effort to develop EM beyond an enforcement-only transparency tool.
Tri Marine's ultimate goal in partnering with FlyWire is to establish an EM program that generates needed scientific contributions while also creating a higher value proposition for suppliers and customers. The team's latest advancement of reducing the cost of EM hardware by 80% has been the result of a two-year collaboration aimed to evaluate FlyWire's differentiated EM model. The emphasis of the model is to provide the vessel owner with more transparency and ownership of the data they collect whereby they can choose how they wish to contribute to any potential project, customer or individual (such as the EM trials being conducted by TNC and the International Seafood Sustainability Foundation); as well as report data directly to TFA and the appropriate Regional Fisheries Management Organizations.
Importantly, Tri Marine also intends to increase the observer coverage rate related to their recently certified Atlantic Albacore Longline Fishery through this industry led initiative.
"It is amazing to see what's possible with a different approach to EM. Because our team is focused on fishermen, we are succeeding in driving down costs, increasing value and managing data risk." said Christa M. Svensson, Sustainability Program Manager – Global at Tri Marine.
In addition to traditional EM tasks such as tracking and reporting catch, Tri Marine's new initiative also utilizes aspects of FlyWire's proprietary solution that have been developed to create business value for FlyWire's industry customers, such as understanding fuel consumption at the vessel and fleet level to reduce operating costs and GHGEs over time, and fully characterizing labor utilization to improve social audit outcomes.
"FlyWire is proud to collaborate with the innovative team at Tri Marine working to improve seafood sustainability. To succeed, we believe we must facilitate informed, balanced management strategies while serving the needs of our customer's fishing businesses. We put these values to work in everything we do." said Jacob Isaac-Lowry, CEO at FlyWire.
The initiative will continue in phases over the next 12 months and Tri Marine looks forward to providing future updates.
ABOUT TRI MARINE GROUP
Tri Marine has been in the fish business since 1972, building a wealth of knowledge, relationships, and experience. Our team of dedicated industry experts combined with strategically located sources of supply and offices worldwide provide customers with both diversified and optimized supply chain solutions. We do this with integrity and respect for the resources and our employees for long-term success. Our business is driven by our relationships with the communities where we work and with our customers and suppliers who entrust to us the responsibility to do the right thing, to deliver on our promises and to add value every time they deal with Tri Marine. For more information, please visit www.trimarinegroup.com.
ABOUT FLYWIRE
FlyWire is a data services company that uses fisherman-first electronic monitoring to make the sustainable seafood movement equitable and accessible for commercial fisherman to get on board. FlyWire delivers fishery monitoring services to commercial fishermen, including hardware, technical services, and data insights, while streamlining access to information vital to maintaining healthy fish stocks. We are on a mission to securely deliver catch and business insights directly to fishermen, ensure fishing businesses own their data, and to ensure that wild-capture fisheries remain a critical element of thriving food systems and economies worldwide. For more information, please visit www.flywirecameras.com.