World Tuna Day attracts thousands to celebrate the importance of tuna in the region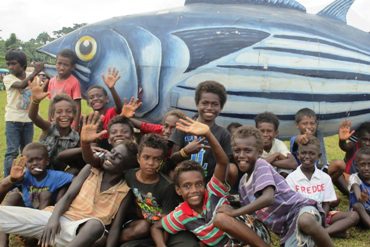 Sixth annual event continues to grow as a tradition that celebrates culture and community
NORO, Solomon Islands – MAY 16, 2017 – Last weekend, thousands of people turned up to the World Tuna Day celebrations in Noro Town. At the official opening the Minister for Fisheries and Marine Resources John Maneniaru and Western Province Premier Wayne Maepio highlighted the importance of SolTuna and National Fisheries Developments Ltd (NFD) to the Solomon Island economy and the local community.
"World Tuna Day reminds us of the important link to tuna as a nation builder and the collective partnerships between government, provincial government, NGOs, industry and communities that revolve around its development and management," said John Maneniaru, Minister for Fisheries and Marine Resources. "SolTuna in Noro is the embodiment of our beautiful nation where you can find people from all over the country dedicated to producing the tastiest canned tuna in the Pacific, if not the world. That is the way Solomon Islands should be, working together as one people."
Minister Maneniaru added that he was specifically celebrating two recent achievements – the modernization of the fisheries legislation and lifting the "yellow card" imposed upon Solomon Islands by the European Union.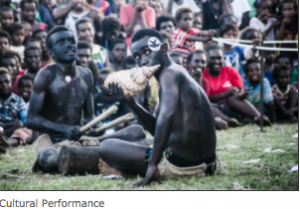 "Let me pause to thank my staff and technical advisers for working very hard to get the EU yellow card lifted," Minister Maneniaru noted in his remarks. "I wish also to extend my appreciation to our health inspectors, customs officers and NFD and SolTuna staff for supporting our work towards lifting the yellow card."
He also acknowledged the SolTuna and NFD workers who marched that morning and the local school children and youth groups involved in the event.
In addition to the public address from Minister Maneniaru, Western Province Premier Wayne Maepio also welcomed guests to the Western Province and thanked the various agencies and companies contributing to the sustainable development of the tuna industry.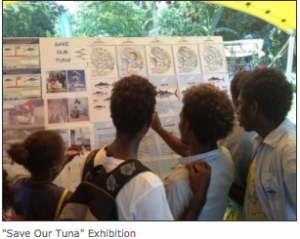 "The Western Province government is so supportive of the role played by SolTuna and NFD in advancing the tuna industry in our province," said Premier Maepio pointing to this being a major revenue earner for the province and the nation.
"As we celebrate today, I would like to commend SolTuna and NFD and their management for providing employment opportunities to many people in the country. In particular, I want to acknowledge the involvement of women in this sector which clearly demonstrates a commitment to gender balance," Premier Maepio added.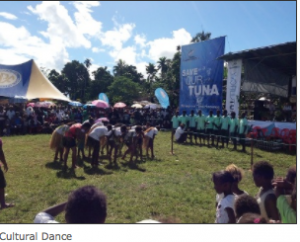 Currently SolTuna employs 1,300 women and has a proactive strategy to employ women in roles traditionally considered "male" such as security services and heavy equipment operation.
SolTuna's managing director, Adrian Wickham, also spoke to the crowd acknowledging the Minister of Fisheries and Marine Resources' achievements and support for fisheries. He also supported the Western Province Premier's recent stand to defend the benefits of New Zealand infrastructure developments stating the Munda-Noro road and upcoming airport would bring many tangible benefits to the province and the airline, as well as the tuna and tourism industries.
Wickam also noted the importance of tuna to the region, adding:
"Last year SolTuna produced 29 million cans of tuna for the domestic market. This is the equivalent of 48 cans of tuna consumed for each man, woman and child.  It's also a vital component of our national food security stock. This is evidenced during natural disasters when affected populations can be quickly supplied with canned tuna," Wickham said.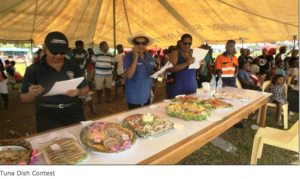 The official opening was followed by traditional and modern dancing and music, a secondary school speech competition, a quiz competition, a music song competition, a tuna dish competition, activities for children, information stalls and additional speeches from government and industry representatives.
National Fisheries Developments Limited (NFD) and SolTuna Limited (SolTuna) are subsidiaries of Tri Marine and are both major sponsors and active participants in a celebration that recognizes the significance of the tuna industry and the role it plays in Solomon Islands and other Pacific island economies.  World Tuna Day forms an important part in SolTuna and NFD's support for education and for underscoring the value of tuna as well as the preservation of the Western Province's unique cultural traditions.
Photo Credit :Soltuna/ Sukwadi Media
ABOUT NATIONAL FISHERIES DEVELOPMENTS LIMITED (NFD)
Established over 30 years ago, NFD is the Solomon Islands premier fishing company, operating a fleet of purse seine and pole and line vessels from the port of Noro in the Western Province. The company's management, staff and crew are Solomon Islanders.
ABOUT SOLTUNA
SolTuna is the Solomon Islands only large-scale tuna processor.  Based in Noro, Western Province, the company produces cooked frozen tuna loins and fishmeal for export markets, and canned tuna for local, regional and international markets. Its iconic Solomon Blue and Chilli Tuna brands have been available since the 1980's.  The company employs about 1,700 Solomon Islanders. More information can be found at http://soltuna.com.au.
ABOUT TRI MARINE
Tri Marine is a recognized leader in fishing, processing and distributing high-quality tuna products to the world's markets. The company focuses on quality, sustainability, innovation and customer satisfaction. As an environmentally and socially responsible operator, Tri Marine has chosen to invest in communities closest to fishery resources. Together with its workforce of over 5,000 employees, Tri Marine is committed to all of its customers, suppliers and stakeholders for the long term.  For more information, visit www.trimarinegroup.com.